A convergence of large-scale trends in the automotive industry is driving an increase in vehicle complexity. Autonomy and connectivity are expected to drive the sophistication of future vehicle systems to unprecedented levels. The growth in complexity has already begun. Today's vehicles can contain 40 discrete harnesses comprised of roughly 700 connectors and over 3000 wires. Yet, according to a 2020 study from Roland Berger, the electronics bill-of-materials for a premium, partially autonomous electric vehicle will be more than double that of a non-autonomous internal combustion vehicle.
Now is an opportune time for automotive OEMs and suppliers to invest in digitalization, advanced technologies and manufacturing processes (figure 1). These investments will help speed the development of future products and make automotive companies more resilient and adaptable to dynamic market conditions. In most cases, these technologies have already been in use in the automotive industry for several years. Now, companies are looking to apply these technologies in new ways to become faster, more agile and more resilient.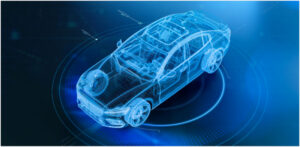 Figure 1: Digitalization will drive the next generation of automotive design and engineering. Now is an ideal time for companies to invest in their digital futures.
Automation and robotics, for instance, have been a fixture of automotive manufacturing facilities for decades. Growing investment into automated, flexible, connected and adaptable industrial machinery will enable machines to complete a greater number of tasks during vehicle production, opening up new possibilities for production design, flexible manufacturing and the configurability of the products themselves.
In addition, digitalization will be a powerful facilitator of advanced technologies, innovative designs and tighter collaboration in the automotive industry. Digitalization supports better decision making through robust analytics and makes it easier for employees to work together across engineering domains, functional teams and organizations. Digitalization can also help with the implementation of advanced technologies in vehicle manufacturing and service.
Porsche, the famed manufacturer of sports cars, has emerged as a leader in the automation and digitalization of production and service processes in support of their new Taycan electric vehicle. Porsche needed to construct an entirely new production facility for the Taycan electric sports sedan among the existing factory at Zuffenhausen, in record time and while allowing sportscar production to continue unhindered. Porsche knew they had to build upwards to construct the new facility, but they faced another challenge. There is a height restriction on buildings in Zuffenhausen to minimize the impact on airflow in the city of Stuttgart.
Porsche is also well known for the level of customizability it offers in its vehicles. Customers can personalize their vehicles, both inside and out, to meet every expectation. The Taycan is, of course, no different. This means that every station in the Taycan production facility had to offer a high degree of flexibility – a huge logistical challenge, since production is spread over several floors. To meet these constraints, Porsche worked with Siemens to develop a unique manufacturing concept that makes the most of every level without wasting a single centimeter of height.
This concept is known as FlexiLine, a new approach to production where autonomous guided vehicles (AGVs) move car bodies from one processing station to the next (figure 2). Rather than fixed conveyor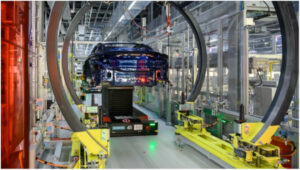 belts, the AGVs, powered by Siemens technology, provide maximum flexibility. FlexiLine makes it possible to adapt operating cycles to actual needs and, for example, stop an AGV to perform automated tasks and then speed it up to move on to the next processing station. The entire production system underwent virtual simulation and testing in advance of construction to ensure proper and smooth operation. The result is a highly flexible, space-optimized production system that was able to be implemented in just four and a half months.
Figure 2: The FlexiLine production system uses AGVs to move the vehicle body from station to station, providing enhanced flexibility.
But, Porsche's digitalization journey didn't stop there. As the first fully electric series-production vehicle from Porsche, the Taycan is full of advanced technologies and complex interconnected components. This makes it difficult for service and maintenance teams to do their work fast and reliably—the learning curve on this vehicle is steep. To better enable service and maintenance teams, Porsche is leveraging digitalization to build an augmented reality service solution. This solution, known as Porsche Augmented Reality in Service (PARiS), uses CAD data directly from the vehicle development department to create 3D animations of vehicle systems, rather than producing ever-larger service manuals. Service employees simply have to hold their tablet up to the vehicle, and animated 3D data for the particular vehicle part is instantly displayed, including a description of the component, technical data, and handling instructions, such as the correct tightening torque for a bolt.
Porsche's success is a demonstration of the power of digitalization in the automotive industry. Connecting data from multiple departments, including vehicle development, manufacturing design, actual production and in-field service organizations, illuminates new opportunities for innovation and advancement throughout the digital thread. Indeed, those companies that commit to a comprehensive digitalization strategy will be in the best position to lead the automotive industry of tomorrow.