The new £162m Clatterbridge Cancer Centre hospital in Liverpool (UK) is going the extra mile to provide the best possible comfort and care for inpatients, using state-of-the-art connected TVs to providing personalised in-room entertainment services akin to those in a luxury hotel, and extensive bedside communications to ensure patients are always well-informed.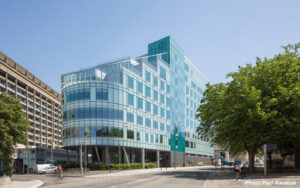 The 11-storey Clatterbridge Cancer Centre is the city's first specialist cancer hospital, bringing world-class treatment, pioneering research and dedicated care to the 2.4 million people living in and around the Merseyside and Cheshire region.
In addition to providing world-class treatment and conducting invaluable life-changing research, the NHS is redefining the hospital experience for patients, whether spending a few hours, a few days or even a few weeks or months, to help protect their wellbeing and assist in their recovery.
Healthy mind
As part of its commitment, the hospital has installed 141 fully-connected Philips MediaSuite professional Android SoC TVs inside all 110 private rooms, as well as in its communal areas.
Working with Parity Medical – a recognised supplier of critical solutions to the NHS – patients now have the ability to communicate, enjoy entertainment, access personalised information and participate in their own care processes for a fully personalised patient-centric experience.
Running on Parity's CompanionWave system, Philips MediaSuite TVs – typically found inside high-end hotel rooms – provide patients with 24/7 free access to hundreds of TV and radio stations, a wide range of games and instant access to thousands of popular apps (such as YouTube) from Google Play. Patients can also enjoy content from their own subscription services by casting directly to their TV from their own personal device (mobile, laptop, tablet), while their screens can also be customised to display their own favourite and personal photos.
Personalised care and control
The TVs also provide new ways for patients and hospital staff to communicate and share information personal to them, reducing the pressures and frustrations of having to explicitly wait for hospital staff to do their rounds.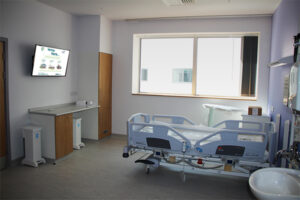 Supporting 12 different languages, the CompanionWave platform from Parity allows patients to view and order their daily meals (including detailed nutritional information), find the names of the staff working that day, see information on their prescribed medication and when to consume (including reminders), access test results and treatment plans, as well as provide feedback on their experience and where improvements can be made.
Commenting on the installation, Kendra Ingram, PPDS UK Sales Manager responsible for Philips professional TVs, said: "The commitment to patient care in the world-class facilities at the Clatterbridge Cancer Centre is truly second-to-none and the team at PPDS is proud to have been part of such an important project."
In addition, PPDS, the AV industry's fastest growing provider of professional display solutions responsible for Philips branded pro TVs, was delighted to donate a brand new 75" HD display to the hospital – providing an eye-catching and highly informative signage solution at the hospital's new reception as visitors and patients walk in.
The new display provides a wide range of opportunities to communicate the latest information on the new building, including directions and important safety measures – such as the latest rules on wearing a mask – especially important with patients in the hospital being particularly vulnerable.
Fast Facts
• Meal and nutritional information
Like a hotel, patients can view and order their daily meals directly from the menu on their TV (or personal device).
• Friends and family survey
Again, like a hotel, the hospital wants to ensure standards are always met and understand where things can be improved. Parity's CompanionWave digital feedback form makes this an important and effortless process.
• Medical results
Patients can receive a detailed account of their treatment, including results, digitally, as soon as they are available. Reliance on patients remembering details from their doctor's consultation, and relaying that to a relevant family member is no longer an issue.
• Translation support
CompanionWave supports 12 different languages, helping to ensure all patients can benefit from its services and remain informed at all times.
• Freeview TV and radio channels
Freeview is the UK's number one TV platform, used in more than 18 million homes, providing more than 100 free TV channels (including streaming/catch-up) and 30-plus radio stations.
• Relaxation music
Listening to music can have a tremendously relaxing effect on our minds and bodies. Philips MediaSuite TVs with CompanionWave include dedicated instant music packages, whether it is to help patients remain calm and composed or simply to relax and enjoy.