PPDS brings Germany's newest fully professional cycle store to life with tailored Philips digital signage and videowall displays and covid compliant solutions
Riding into a new era post lockdown: Concept-Cycles Hamburg becomes the world's first cycle store to combine state of the art equipment and a personal Covid-compliant pop up experience, with the installation of a range of 17 advanced Philips interactive, digital signage and videowall display solutions.
As part of its ongoing commitment to supporting the retail industry with innovative problem solving and experience-enhancing solutions, PPDS is excited to announce its suite of Philips professional displays has been selected and installed inside one of Germany's newest and most technologically-advanced cycle stores, transforming a once empty and lifeless ground floor space into a now thriving, Covid-compliant, interactive haven in just three weeks.
Founded in 2013, Concept-Cycles Hamburg is the largest concept store in northern Germany, offering full bike servicing, fitting, repairs and buying advice. Its 300 square metre showroom houses an extensive range of professional level road bikes, mountain bikes and power assisted E bikes (ranging between €1.999 – €13.499 in value), as well as accessories from some of the industry's premium brands.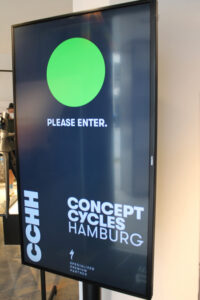 Following a recent fire, which has partially reduced capacity for the foresseable future, Concept-Cycles decided to open a new 'state of the art', pop up showroom nearby, dedicated exclusively to showcasing the latest bikes and accessories from bike brand 'Specialized' – a Premium Partner. In order to meet current and future customers – including safeguarding – Concept-Cycles wanted the new 'Specialized Concept Store' to become a standout environment, offering a unique and more tailored experience for customers, while complying with strict Covid-19 regulations.
Working alongside local retail AV integration specialist, P.O.S. Television GmbH, Concept-Cycles spared no expense in fulfilling its ambition, with PPDS the standout choice in bringing the dusty 100m-long ground floor of a former hotel, built in 1910, to life.
Remarkably completed and opened in just over three weeks, the pop up showroom features 17 Philips professional displays, ranging from 24" to 75", placed and mounted strategically throughout the store (including from the ceiling), ensuring maximum exposure and impact.
Inside the store, a vibrant, 9-screen videowall (Philips X-Line, 49") was installed to bring an immediate 'wow factor' to entering customers, with the store displaying inspiring and informative content in up to 4K, which can be managed and controlled entirely remotely. With PPDS' 'FailOver', the Philips displays will always remain active, with content able to be backed-up and available in case of a primary source outage.
For customers wishing to do their own research in store, a digital touchscreen kiosk (Philips T-Line, 24") was also installed to offer more tailored product information based on their own needs.
PeopleCount
To comply with Covid-19 regulations and to reduce potential concerns of returning customers, the store was also fitted with PeopleCount — PPDS' exclusive digital customer entrance management solution, which automatically monitors and manages capacity, by using intelligent camera technology and a traffic light system on a display (Philips D-Line, 43") to alert customers and staff when it is safe to enter.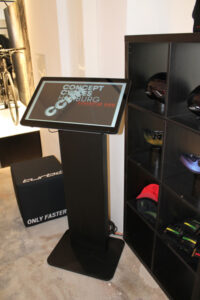 This complete suite of solutions from PPDS has already resulted in outstanding sales results, with the store fulfilling Concept's ambitions on becoming the world's first cycling store to combine state of the art equipment with a personal experience tailored for each customer.