First opened back in 1848, the Grand Hotel Kronenhof is one of Switzerland's most iconic and luxurious hotels, carefully balancing modern comfort with holistic wellbeing and outstanding architecture, all set within a natural paradise at the heat of the Swiss Alps.
Part of a major restoration program, reinforcing its commitment to providing unparalleled luxury throughout the hotel, the owners turned to PPDS to bring its guests – which have previously included a number of leading celebrities, such as the late Sir Sean Connery, as well as royal family members – an advanced, connected TV entertainment solution that is befitting of its high-end reputation.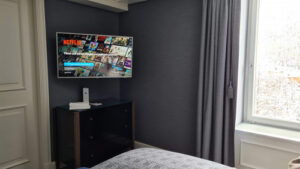 Working with Swisscom and PPDS to deliver a full RF and IP upgrade with hybrid Wi-Fi connectivity across the entire premises, 127 Philips MediaSuite TVs were installed (ranging from 43"- 55"), bringing unrivalled entertainment choice to every guest room, including linear and nonlinear TV and radio channels, integrated Netflix, Chromecast built-in (allowing guest to effortlessly enjoy their own content on the big screen), as well as access to thousands of apps via the Google Play store.
This new entertainment upgrade has also been futureproofed to enable fast content and software updates via the exclusive PPDS CMND platform, allowing new features to be quickly added without additional costs, as well as creating personalised messaging for guests and feedback opportunities via the TV. The TVs can also be upgraded to the latest Android software (when available), adding all the latest features, capabilities, and security patches, ensuring a modern and consistent experience in every room without the added expense.
Philips MediaSuite benefits for the Grand Hotel Kronenhof:
Easy updates: Content and software updates can be easily made by the hotel staff and Swisscom via CMND, saving time and money.
Android: Built-in Android platform opens up an exciting world of possibilities with easy access to apps, content, and games.
Property Management System integration: Guest room TVs are connected to the hotel's Property Management System for complete control and transparency of costs and hotel information.
Custom connectivity: Philips MediaSuite and CMND allow staff to create and deploy custom messaging including guest, hotel, and city information with ease.
Home comfort: Chromecast built-in and integrated Netflix bring home comfort to the luxurious setting of each hotel room.