Since 1984, Progressive Tool & Manufacturing, Inc. in Greenesboro, North Carolina, has earned an excellent reputation for precision manufacturing. Rigorous quality control monitoring, exceptionally trained employees, and careful selection of CNC software ensure that Progressive Tool's custom products are as close to perfect as possible. The company manufactures specialty machine ports and gages—like the medical metering pumps that measure and insert soft-gel capsule medicine—for customers in the medical, defense, automotive, nuclear, and aerospace industries.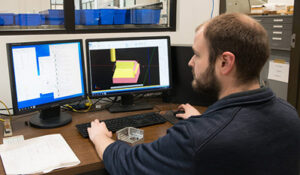 Founder Richard "Dick" Thompson calls Mastercam "an essential link" to his manufacturing process. He has relied on it for about 20 years, updating the software regularly.
– We do everything through the software. We usually start with a solid model—whether it's from our customer or it's something we design in-house. We take it into Mastercam, create our toolpaths, and use the original design geometry from the model to run our toolpaths, said Dick. The software not only enabled Progressive Tool to repeatedly produce precise tools, but it also empowered the company with something else: speed.
Mastercam's Dynamic milling toolpaths (Dynamic Motion technology) use proprietary algorithms to monitor the material as it is being machined for any changes. Because of this, the tool can maintain constant contact, minimizing air cuts and extending tool life. Ryan Thompson, design engineer and Dick's son, revealed that many of the employees were hesitant to run the machines at the speeds at which Dynamic promised success.
– It took the guys a couple of months to get really acclimated with the programming and actually trust that the toolpath was not going to blow up the tool,"Ryan explained, But now that we've gotten over that hump, everybody's pressing it to see how much faster we can go. It's amazing how much more life we're getting out of the cutting tools. It's been night and day.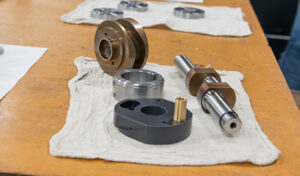 The Thompsons also credit much of the company's fast turnaround times to the Mastercam's Verify feature, which uses solid-modeling technology to create toolpath simulations, calling it a "huge time saver." He shared, – I can think of a few projects right off the top of my head where, while we were working on it using Verify, we were able to say, No, wait! We can't do it this way. We have to slip around and hit it from the backside, or hold it a different way, and are able to recreate new toolpaths efficiently.
Dick has been pleased with the results, saying the technology "not only works, it's amazing." In some cases, tools that may have taken an hour to machine before now take 18 minutes. He claims that machining is moving three or four times faster than what it has in the past, while Ryan appreciates how much tool damage Dynamic has spared them: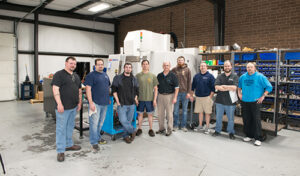 – We are taking full depth of cuts and incremental stepovers at incredible speeds. In addition to running higher speeds, we're actually extending tool life. And that's saving us a bundle.
Michelle Nemeth