As instructor Stephen Lindridge undertook the task of creating a state-of-the art technology education shop for high school students, his biggest concern was finding the best equipment possible. He chose Mastercam as the school's CAD/CAM software because of its ease of use, versatility, and widespread industrial use.
PROJECT DETAILS
Candor Central High School's technology education programs include Design Drawing for Production, Manufacturing, Applied Physics, Architecture, and Computer-Aided Drafting and Design. These programs cater to students who want to enter STEM fields. Graduates often continue their education at trade schools or colleges, but many find jobs right out of high school. Design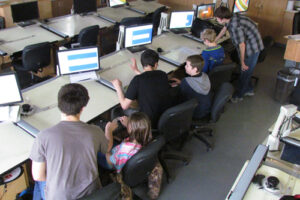 Drawing for Production, Architecture, and Computer-Aided Drafting and Design are even college-accredited. Instructor Stephen Lindridge feels strongly that part of setting his students up for success is introducing them to the equipment and software that they will be using in their future careers.
Years ago, Lindridge took it upon himself to lobby his administration, write to local industries, and explore grants until he could create a state-of-the-art technology shop. Very quickly, he was able to bring on additional manual machines: a Bridgeport milling machine, a Van Norman milling machine, a small desktop milling machine, and a Standard Modern metal lathe. However, Lindridge knew that the future of manufacturing was based in CNC, and he acquired two Smithy-Granite 1324 milling-lathe combination machines for the shop, which were outfitted to be CNC machines.
Lindridge then started looking for CAM software. After trying a couple, he decided to choose Mastercam, which he earned through a grant. Candor's certified Mastercam Reseller, Allegheny Educational Systems, Inc. In Tarentum, Pennsylvania, was there to help Lindridge set up the software and teach him how to integrate it into the school's shop.
When a nearby rapid sheet metal prototyping company, Incodema, Inc. in Ithaca, New York, heard that Candor was teaching the same software that was used in their shop, they sent a representative to help Lindridge learn even more about the software's abilities.
Incodema was thrilled by the idea that graduates of Candor's comprehensive program might come work for them someday.
– Stork [H&E Turbo Blading USA in Ithaca] and Incodema have recognized this huge need for machinists, so I'm training kids as quickly as I can, to get students into the field right out of high school, said Lindridge.
Currently outfitted with the right equipment and software, the technology education shop allows its students to undertake projects they never imagined.
– One of the first things I do with my manufacturing class as freshmen is use CAM software to do a cutting board, shared Lindridge. Fourteen- and fifteen-year-olds program a CNC router to engrave their names or messages into wooden cutting boards,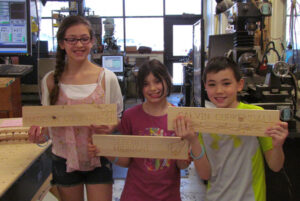 as well as program a channel along the outside. As proud as his freshmen are of their cutting boards, their projects only get more exciting as their skills grow. Upon graduation, his Candor High School students are quickly snapped up by local job shops and big manufacturing companies to start their careers.
– The software doesn't limit us at all. Other programming software that we've used in the past has had a ceiling, if you will. We'd get to a point where we're challenging the program, and we couldn't do what we wanted to do. We have never been able to challenge Mastercam. Mastercam is, for what I do, an unbelievably good stepping stone for kids to get to the real world. We can do those really tough projects. The limiting factor now is what my students dream up, which is a great limiting factor.