This latest PPDS partnership combines Logitech's advanced range of video conferencing and audio solutions with the dedicated Philips-branded corporate and education display ranges to offer extensive, unrivalled online meeting and collaboration capabilities for hybrid working and learning.
Adding even more choice to PPDS' ever-growing global base of partners and customers, this exciting strategic collaboration with Logitech has been formed to address the current and future needs for video conferencing and audio for business and education customers – whether on site or remotely – for more inclusive outcomes.
Video conferencing has become a preferred way to communicate with peers, partners, customers and, within education (hybrid, blended, absent and distance learning), with many businesses adopting a video-first culture to help energise and empower their workforce.
Pre-pandemic, the market was already thriving, valued at more than €4.8 billion, with forecast growth topping €9.2 billion by 2027. With the current global conditions,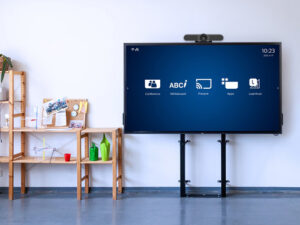 the role and need for reliable, high quality, professional video conferencing solutions has never been greater, not more important. One popular video conferencing platform provider experienced a 354 percent increase in subscribers during 2020, hosting approximately 300 million meetings per day.
Plug and play
Working together, PPDS and Logitech bring plug-and-play connectivity and validated compatibility and seamless integration between a range of collaboration-inspired Philips professional displays for both corporate and education settings and a range of Logitech products. Each designed to meet specific needs and requirements based on the environments in which they will be used, whether at the desktop or a small office at home, a huddle space, vast boardroom, a classroom or lecture theatre.
High quality, flexible solutions
Tim de Ruiter, International Business Manager at PPDS, commented: "We are thrilled to have partnered with Logitech, adding even more incredible quality to our range of dedicated Philips professional displays for the corporate and education markets.
– Combining Logitech's advanced technologies for unrivalled, world class video conferencing quality with our own market-leading range – designed and inspired by market feedback to meet every business need – we're confident that there is no stronger or more complete all-in-one solution. With Logitech and PPDS, customers never have to settle for second best.
Angie Mayo, Global Alliance & Go-to-Market Manager at Logitech, concluded: – With video becoming a must-have collaboration tool in any workspace, our customers are looking for high quality, flexible solutions that are easy to deploy at scale. We are very excited to partner with PPDS to combine Logitech's family of products with the wide range of Philips professional displays to easily video-enable every meeting space of any size.