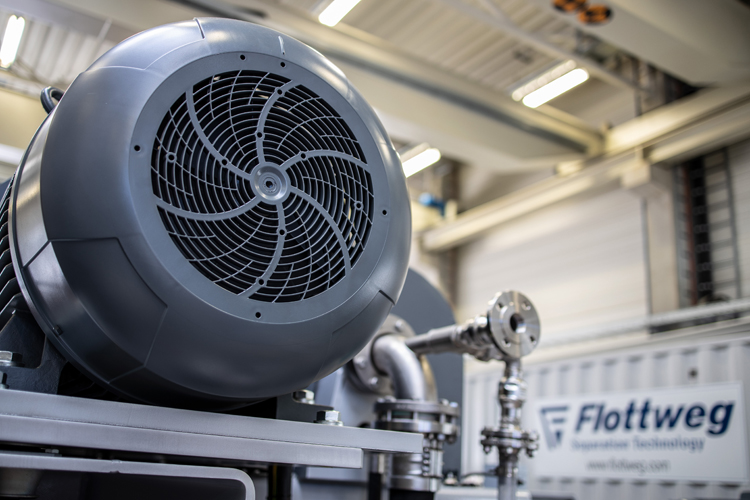 Plant manufacturer develops award-winning visualization based on Siemens system
Vilsbiburg, Germany. Flottweg SE is a leading manufacturer of decanters, separators, and belt presses. The company took an unusual approach for a plant manufacturer to ensure operation of its plants and machines is extremely user-friendly: In collaboration with renowned design experts and based on user feedback, Flottweg developed a new interface, including visualization, which works on any plant. The new solution, which is easy to configure and maintain, was implemented using the Siemens Simatic WinCC Professional visualization software. Amongst other things, the focus was on using standard components which reduced the engineering workload by up to 20 percent during configuration. Flottweg's customers benefit from an interface which has a clear and open structure, allowing easy interaction with the machine or plant. This saves time and reduces the probability of error during operation. Flottweg developed the new interface with Munich-based designers N+P Industrial Design GmbH. The interface follows clear, new parameters, focusing on an open user interface, a harmonious colorway, and an intuitive operating structure which still provides all the necessary information.
– The starting point was a visualization which was effectively developed by users for users – correct, functionally complete, but not sufficiently clear and intuitive. We wanted to offer our customers more here and therefore decided to work with N+P, explains Bernhard Niedermeier, automation technology development engineer at Flottweg SE. The design is based on an adapted process flow diagram which quickly displays the plant's current status using symbols and colors in a choice of depths.
Complete customer solution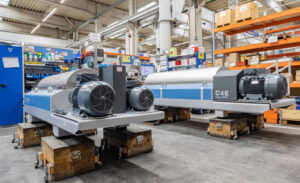 The solution was realized using the Siemens TIA (Totally Integrated Automation) engineering framework portal with a Simatic IPC (Industrial PC) and Simatic WinCC Professional visualization software: Operation is via Simatic HMI (Human Machine Interface) Basic panels. All the automation at Flottweg thus has a uniform, end-to-end appearance.
– Our company motto is 'Engineered for your success,' and this includes giving our customers not just a machine but a solution for their task. Because our products are part of a process, they need to integrate and work together with other systems – and this is also reflected in the visualization solution, says Gerhard Hager, automation technology development engineer at Flottweg. All equipment and machines from Flottweg now have an identical, standardized look and feel.
– If I can operate a Flottweg decanter, I can operate one of our belt presses. The functions are always the same, explains Bernhard Niedermeier.
Award-winning design
The new, user-friendly design has convinced not only customers but also the German Design Award jury. Flottweg received an award for its solution in the "Interactive User Experience" human-machine interface category for the innovative user interface, the revolutionary colorway and the intuitive operating structure