The Marlyn Cobalt, Atmos' latest surveying drone, offers surveyors up to 30 times more efficiency than traditional methods. We sat down to find out how the right technology and the right partner lead to a product that is transforming an industry.
Atmos knows a lot about change. What began as a student team in 2012, addressing a challenge laid down by The Netherlands' TU Delft and the US Air Force, has grown and developed into a company that provides aerial surveying drones to clients around the world. But the change doesn't end there; their target audience and public perception of the technology have also shifted.
– When we started in 2012, people tended to see drones as just a tool for the military, explains Joost Bouman, Head of Production and Logistics at Atmos. And I think that, especially the past three years, we've seen a complete shift into the public domain where it's also an accepted technology for professionals to use.
This shift represents the core audience for Atmos' drones: professionals in a range of industries, such as construction, agriculture, and mapping, where surveyors must measure and analyze large areas of land. Atmos designed the Marlyn Cobalt, their latest 3D-printed model, to be an indispensable tool in this field — but also to make a bigger difference in the world.
– Our main goal is to create a tool that professionals can use to learn more about the land and optimize it in an effort to tackle the many challenges that we are now facing as a planet, says Vasilis Tziampiris, Marketing Lead at Atmos. For example, the urbanization, the lack of resources. We need the tools to better understand our environment and plan the future with precision.
Building the Marlyn Cobalt
The Marlyn Cobalt is Atmos' answer to this challenge. As a VTOL drone, it is able to take off vertically in any 2x2m area and fly in winds of up to 45 KPH, with dedicated features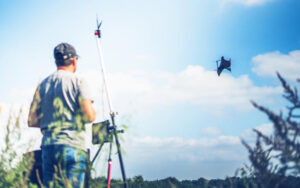 that allow it to perform in ways other survey drones cannot. Surveyors can cover up to 210 hectares per flight – the equivalent of approximately 300 football fields – while the drone's powerful camera guarantees accuracy down to 1 cm. It is the result of years of work and further proves the effectiveness of 3D printing. The combination of flexibility, repeatability, and strong, lightweight materials was the perfect match for Atmos.
– What we've seen over the last few years is that the manufacturing methods for additive manufacturing have developed really well, says Joost. In the beginning, we 3D printed some prototypes, and at some point, you notice that some parts, due to their complexity, are very easy to print. Others are cheaper or easier to produce through traditional methods, so it's a bit of a puzzle for us. Aircraft are fairly complex in that sense.
What helped the team make their decisions was the ability to make gradual improvements through trial and error. Beyond the design of their machine, 3D printing's flexibility allowed them to choose the technology and materials that suited them best. Atmos settled on Multi Jet Fusion due to the strength of its materials and the lower likelihood of warping compared to other methods. To date, Materialise prints and finishes approximately 60 of the unique parts in and around the aircraft.
This iterative freedom also helps Atmos adapt to an ever-changing regulatory environment. "Additive manufacturing allows us to try things out. It means we can iterate multiple times and easily implement customer feedback, which is very important to us," Joost continues. "Beyond that, it's also driven by external factors. Drones are fairly regulated, and regulations change quite often now. We had to add lights to the exterior, for example.
– With AM, it's fairly easy to add things to the aircraft when needed. We can design it, try it, and then integrate it and keep improving it. And that's one of the strong points – if we were locked in a process where we had to make molds or order batches of thousands, you'd have to throw it all away.
Transforming an industry
With the Marlyn Cobalt's final design proving a great success, Atmos plans to scale its production even further. Currently, the team produces between four and six aircraft each month, a number they hope will more than double in the near future. Today, less than ten percent of surveys make use of drones, meaning the market is far from saturated – the challenge now is to convince more surveyors to adopt new methods.
– The biggest challenge, and the nicest challenge if you ask me, is convincing those who are used to traditional methods, explains Vasilis. Right now, we see that a big part of the industry is already using drones and is aware of the technology. But the biggest challenge is the traditional surveyors.
– What's really cool is that the case study for them is huge. We can see that drone surveying is at least 30 times more efficient than traditional methods, so the shift is huge for them. In their minds, it's a big step, the technology gap. But what we try to do as the manufacturer is make this process as easy as possible and create a great experience for the surveyor through our software where they can plan and monitor their flight. It's very straightforward, step by step, so it's incredibly easy for them to go for it.
The right partner
When Atmos began the search for a manufacturer, they felt their design was almost ready. With a few small tweaks and some advice on the pitfalls and possibilities of each option available to them, it would soon be optimized for 3D printing. But as with any process, finding the right partner to take that final step is often as important as the manufacturing method itself. In Joost's opinion, it is even more so. So, why Materialise?
– We've worked with Materialise for about four years now, says Joost. We'd had several suppliers for 3D prints before, and I think Materialise was the first that allowed us to go further than the web interface. They gave us a fixed contact point, so we could have regular conversations about pricing, setting up a production line, and work tailored to that. It gave us the opportunity to talk about things that go wrong, which is very important to me. Making an error is very human, so it happens. The fact that we can talk about it to see how we can do it better next time, either on Materialise's side or by adjusting the way we order, so it becomes clearer, means we keep on improving, and that ultimately leads to better parts.
Above all, addressing any issues and continually adapting designs where needed is key to ensuring repeatability and consistency. It's crucial in any industry, but even more so when the majority of regulatory pressure concerns the operator of the machines in question rather than the machine itself.
– Of course, we have quite a big responsibility because we make something that flies, and we need to make sure that it's safe for our customers. We need to be sure that we deliver a sound product in that sense, explains Joost. It's that repeatability that keeps us working with Materialise. What I like most is that they treat it like a normal manufacturing process instead of just prototyping, where it's just prototype batch after prototype batch. And I think that this past year, we've ordered ten or twenty batches of parts each time, knowing they'll be the same every time. That's very important to us.
As Atmos looks now to grow even further in the coming months and years, the strength of this relationship is likely to be more important than ever. It's certainly a journey that Materialise is looking forward to.