It takes years to produce a bike, so getting each production stage right is crucial for bike manufacturers. A critical period of product development is the prototyping phase. This is the chance to test the bike's capabilities – such as the geometry, comfort, and support – before making any final adjustments for production.
German bike manufacturer, Kalkhoff, contacted Materialise for help creating a functional, metal, 3D-printed prototype of their new e-bikes. This collaboration ensured that the portfolio met the company's high standards and produced bikes for customers in the shortest possible time frame.
The challenge
Create a functional, 3D-printed prototype of a new range of e-bikes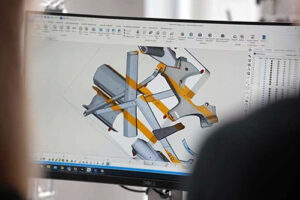 Kalkhoff is a German bike manufacturer with over 100 years of experience in the cycle industry, and their long and storied history means they know what it takes to make a good bike. However, product development for any new Kalkhoff bicycle is always a balancing act. In particular, designers need to maintain the unique geometry synonymous with Kalkhoff e-bikes while considering the additional parts and attachments included in the design. The company strives for its bikes to be comfortable, agile, and reliable to ensure a smooth and enjoyable riding experience for every customer.
The company tests each bike's wheels beyond what's normally expected in the industry to fulfill these goals. Usually, wheels must pass loads of up to 150 kg – but some manufacturers refrain from carrying out such tests. In comparison, Kalkhoff's bikes can take around 170 kg.
– Our business prides itself on providing our customers with the opportunity to cycle freely without limitations, says Rik Maes, Industrial Designer at Kalkhoff Derby Cycle Werke GmbH. Cycling should reflect our company motto: Kalkhoff moves you everywhere, he says.
The company relies on rigorous tests carried out during the prototyping stage to maintain such levels. Kalkhoff needs drivable models where standards and customized parts can be mounted and checked to perfect the design, so the prototypes must look and feel exactly like the final bike. This is hard to achieve with plastic frames, so the company explored other avenues – mainly metal 3D printing.
Solution
Metal 3D-printed prototypes produced locally by AM experts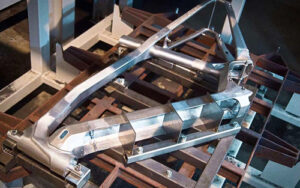 Kalkhoff previously used Materialise Manufacturing for plastic printed prototypes and was impressed by the service and quality. However, the Kalkhoff team recently became aware of Materialise's aluminum 3D printing capabilities at a trade fair and further explored this avenue for their new e-bikes.
– Kalkhoff is already a well-known customer of ours, which simplified things. And as our new Metal Competence Center for 3D printing in Bremen is close to Kalkhoff's headquarters in Cloppenburg, it seemed obvious to continue the relationship for this project, says Philip Buchholz, Innovation Manager Metal 3D Printing at Materialise.
Initially, Kalkhoff's design and engineering team created the 3D models and converted them into a printable file. The team then worked with Materialise to optimize the designs and choose the most favorable aspects before printing the model. Finally, the multi-part frame was welded, heat-treated, and straightened by a dedicated chain of suppliers and additive manufacturing (AM) experts.
– Kalkhoff benefited from our expertise and state-of-the-art 3D manufacturing network that processes over 30 materials when switching from plastic to metal, explains Philip. The installation space for metal 3D printers is rather limited, so it was necessary to complete the frame in several segments, explains Philip. After printing, the frame was welded and tested at our reliable partner, Seefried GmbH in Bremen. ACTech took care of the heat treatment of the welded frame, which was performed in two steps – solution annealing and artificial aging, he continues.
Result
Functional prototype produced within six weeks, exceeding the strictest tests
Typically, the complete development of a bike takes between 2 – 2.5 years. But using metal 3D printing and AM experts in the area saved significant time in the last development stage.
– We managed to deliver the whole frame within six weeks from start to finish, says Philip. This new process will save around three months in the development phase," adds Rik. For Kalkhoff, build quality is essential. And for the metal 3D-printed prototype, the manufacturing team managed to reposition the cuts on the bike to consider existing loads to avoid peak stress in the welded joints.
The whole team was excited to see and test the final metal 3D-printed prototype. Furthermore, the aluminum frame is a fully functional prototype, a distinct advantage over the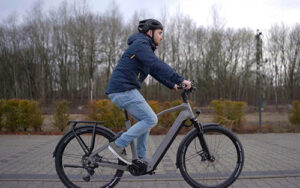 plastic variations that are mainly for promotional purposes.
– We learned that a 3D-printed aluminum frame is very rideable, says Rik. Changing the material enabled the Kalkhoff team to perform realistic and accurate function tests and execute checks for the assembly of add-on parts. The motor flange and bearing of the fork are particularly important interfaces to check for functionality and safety, says Philip. We subjected the bike to one of our most dynamic load tests of 170 kg without any problems. That surprised us a bit; we've been very impressed from a technical standpoint, continues Rik.
– Metal 3D printing has surpassed our expectations, and we can make changes at short notice because no tools or molds were specifically needed to be built for this model. In the development phase or the 'engineering design freeze,' we will have mobile design prototypes where we can test all the selected parts. This has never been possible. Thanks to metal 3D printing, we can have test results faster and move quicker in our production cycle. That's a good thing for us, as we're first to market with innovative bikes for our customers.
Foto: Credit: Kalkhoff.