When some people retire, they spend their days on the back nine or sitting on a beach. Others are hardwired to keep creating. Like many in the manufacturing industry, CNC Software, Inc. Co-founder and current Chairman Mark Summers belongs to the latter group. Summers is a self-proclaimed maker of things, which is unsurprising for someone who helped create the world's leading CAD/CAM software for CNC machining.
– I hate to even say 'retire.' I'm still doing things! he said, admitting that he didn't want a retirement party. Summers stays busy volunteering, serving on multiple boards, and enjoying the great outdoors. – I try to do something useful or interesting every day. What else would I do, twiddle my thumbs? he laughed.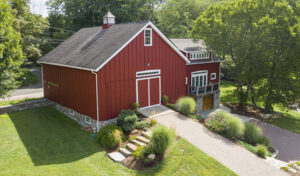 One of his favorite retirement outlets is his woodworking shop at the CNC Software headquarters. Summers has had shops in his personal homes for 30 years, but when he bought his most recent house four years ago, there was not enough room for a woodshop.
– Really, it wasn't much of a decision, he recalled of his choice to build a new shop at company headquarters. The barn shop addition is about 2,500 square feet over three floors. – Every piece of the barn was cut on a giant 5-axis CNC woodworking router. The company we contracted to do it machined all the pieces and brought them up here, and then they assembled the whole thing with mallets and pegs. No noise, no sawdust. It felt like a barn raising from 200 years ago.
The key machine in the shop is a 4-foot by 8-foot MultiCam CNC router, which anyone from CNC Software is welcome to use, provided they are technically proficient. Additional shop equipment includes an assortment of manual woodworking machines. Summers made this shop a community space and is proud to have a woodworking counterpart to the metalworking Manufacturing Lab inside the main building on the grounds. He welcomes CNC Software employees to use this shop for most kinds of woodworking projects they may have. The point of the shop is for training, testing, and learning in addition to providing a base of support for the company's Facilities Management team.
Additionally, – We develop software that allows people to make incredible things, so it's neat to be able to test it out on our company router here. It's nice to stay connected with the business that way.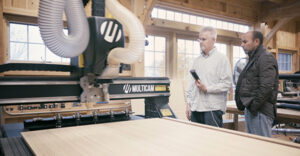 Summers said that he's always had a list of ideas to improve the software and make it more user-friendly, but now that he has the time to play with it outside of work, he's finding different ways to make the software better, more from a hands-on experience. – If I run into a certain problem, then the customer does, too, he said. His suggestions are relayed to some of the Project Managers for future consideration as part of Mastercam's ongoing development process that has been in place for 37 years.
Even as he steps away from his former duties as one of the leaders of CNC Software, Summers is comfortable in the direction the company is headed. He is confident with how his daughter Meghan West, President and CEO, has taken charge. – I had reached my limit, and she could grab the baton and run with it easily without stumbling. This is her career, she's happy with it, and the numbers are showing that it's working pretty well, he said. With West at the helm, Summers is free to exercise his creativity while still staying close to the company he loves.