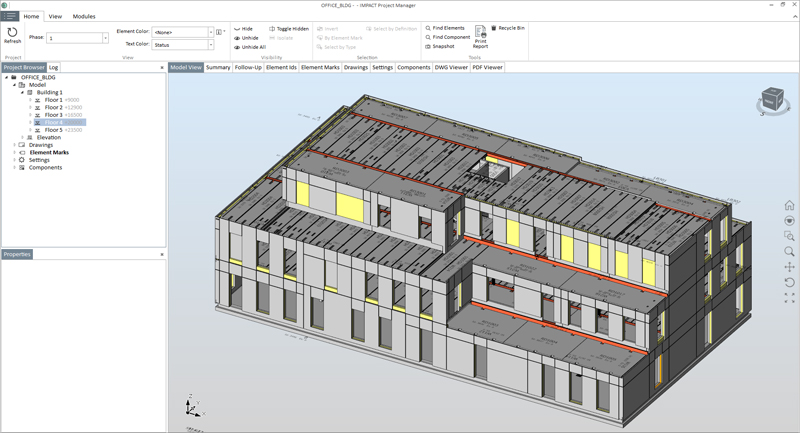 MPACT BricsCAD Release News
We are excited to announce that IMPACT, our family of BIM software for the precast industry, is now fully integrated and compatible with BricsCAD. This provides a fantastic solution for precast producers looking for a competitive CAD solution to own the precast process, from design right through to erection on-site. Several customers have already chosen to take advantage of this option, following a development process lasting around one year.
Create a 3D BIM Workflow Without Limitations
BricsCAD BIM allows users to create and manage building designs in a single environment, having been first introduced by Bricsys in 2015. Bricsys are a global software provider, acquired by the Hexagon AB group in 2018.
BricsCAD offers highly competitive, subscription based pricing on licences, and a range of desirable features for the creation of a full BIM workflow. This is all achieved using industry standard DWG and rapid IFC export.
Fast installation and startup is combined with excellent support, maximising efficiency and productivity. Allied with advanced AI tools for propagation and classification of elements, users can create Building Information Models in record time.
Own the Precast Process
IMPACT is a central BIM database, working behind BricsCAD to link all the elements of a precast construction project. Real-time access for stakeholders at all levels enables greater control over time schedules, materials and accuracy. This reduces costs, increases productivity, prevents errors and conflicts. With a customised IMPACT database, customers using BricsCAD can design precast elements in 2D and 3D, with automated production drawings – including dimensions and reinforcement.
In fact, IMPACT information is available on every single element designed in BricsCAD, such as lifters, statuses and planning dates. Available elements include columns, beams, walls, floor slabs and more. These can also be linked with Revit and Tekla models. Production planning maximises efficiency throughout manufacture, from raw materials and casting, to loading and erection.
To see how IMPACT can work with BricsCAD to improve your workflow look at our IMPACT Wiki page: https://wiki.impact.strusoft.com/xwiki
Model and Schedule Rebar for Reinforced Concrete (RC)
IMPACT Reinforcement is an application to model and schedule rebar for precast and in-situ concrete in BricsCAD.
With smart objects containing all the necessary information to define rebar – including bar mark, shape code, leg lengths, end hooks, and material – you can draft quickly and create schedules at the click of a button.
Quantities are calculated automatically, and bars are shown as easily read symbols or 3D solids. If you are working on large projects, multiple DWG files are easily connected for common scheduling, with filtering based on bar data for easier call off.
As with all our software, IMPACT RC can be adapted to meet your individual user or company standards to achieve a consistent, unified style throughout your projects. Your rebar data can also be exported to XML and BVBS or saved directly to Celsa Steel services QR web schedule service.
Design, Plan and Produce
If you're a precast producer or consultant looking for a complete BIM workflow, using market-leading software at a competitive price – look no further than IMPACT and BricsCAD.
If you are interested in more information or an existing IMPACT user and would like a free trial of BricsCAD please get in touch.