Engineering team develops disinfection robot in just one week to battle the virus
Nuremberg, Germany. In just one week, Siemens and Aucma have developed an idea into a prototype for an intelligent disinfection robot, which will soon join the battle against Coronavirus and other viruses in hospitals. The electric robot can disinfect up to 36,000 square meters in one hour and features a robust chassis that can overcome obstacles and navigate slopes.

Since the Corona outbreak, there has been an urgent need in many hospitals for disinfection robots that can free people from having to disinfect high-risk areas. Led by initiator Yu Qi, Head of Siemens China's Research Group for Advanced Manufacturing Automation in Qingdao, a team of ten specialists with a broad mix of experience and expertise were confident that they could develop a new type of robot in a short period of time. Yu Qi works at the laboratory for robotic applications co-established by Siemens and Aucma, where the focus is on developing special robots, unmanned vehicles, industrial robots, and intelligent equipment.
Purely electric solution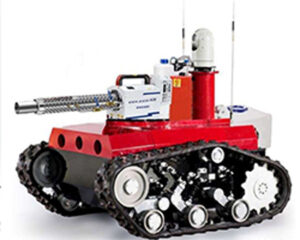 Most disinfection robots combine a petrol-driven mistorizer gun with an electric chassis. However, on-site refueling of robots is neither clean nor convenient. The team therefore decided to develop purely electric disinfection robots to better cater to the needs of hospitals. The greatest challenges for the developers included ensuring maximum sterilization impact with less disinfectant consumption and providing 360 degree coverage even in confined areas.
Efficient virus prevention
Powered by a lithium battery, a robot with double mistorizer guns can disinfect 20,000 to 36,000 square meters in one hour. A 360 degree camera platform on the top transmits videos and information in real time, coupled with an intelligent vision algorithm that allows the operator to remotely locate affected areas and prevent the spread of infectious diseases at low cost. To make the robots operate easily on various road surfaces, the team adopted a caterpillar chassis instead of wheels to improve their ability to surmount obstacles and handle slopes.
Excellent teamwork
Yu Qi praised the perseverance and dedication of the team.
– We joined efforts to make our robots adaptable to different user scenarios, he says. From the initial idea on February 7 to the prototype on February 15, the process took only a week. As soon as it is launched, the new robot will be put to use, not only in hospitals but also in schools, offices, manufacturing sites and other public places to support the resumption of work and production.
Aucma
Aucma Co. Ltd. is one of China's largest manufacturers of refrigeration equipment and other household appliances. Siemens operates a joint laboratory for robotic applications with the Qingdao-based company. The focus is on developing special robots, unmanned vehicles, industrial robots and intelligent equipment for factories.