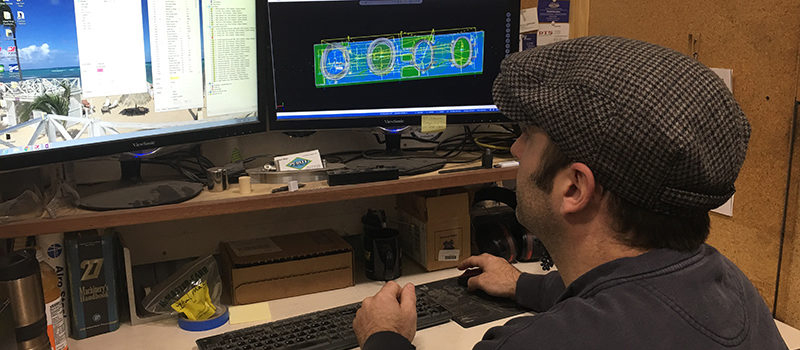 In Boyne City, Michigan, beauty meets function in the Van Dam Custom Boats workshop. The family company constructs world-renowned wooden boats, and President Ben Van Dam is proud of the name he and his father have built.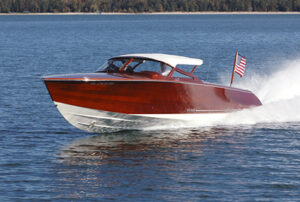 The Van Dam team is entirely committed to providing unique and reliable boats to each and every client. Part of what sets the company apart is the customization power that its customers wield.
– For us, it's all about being able to make as much unique on the boat as we possibly can. We try to make sure that we're not limited by something we can buy off the shelf, said Van Dam.
Nearly everything from bow to stern is created in-house by Van Dam Custom Boats craftsmen. Only the upholstery and engines are outsourced. For a company founded on woodworking principles, taking on the responsibility of machining the boats' metal components was daunting. Van Dam refused to balk, though, and started the company manufacturing its own exhaust tips, switch panels, mast mounts, and many more fixtures.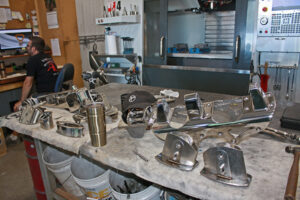 With Metal Shop Foreman Jesse Brown leading the venture, Van Dam quickly found success through Mastercam CAD/CAM software. Brown appreciates the software's adaptability, which allows him to tackle any custom machining project he may have. – We have more control of the end result, Van Dam explained, – We have a higher quality product, a more custom product, more tailor-made.
Model Prep is a solid modeling feature that allows users to simulate the machining process and final product as they design. This technology has made all the difference for Brown, who frequently needs to try several different approaches when designing a custom part. Recently, he used Model Prep to create unique port lights for a custom sailboat. When even the best port lights available for purchase didn't meet Van Dam Custom Boat's standards, Brown took it upon himself to design new ones.
– We started out with a quick mapping sketch of how we thought we could make it better, Van Dam recalled, – Jess took it and did the solid modeling. We brainstormed how the hinge was going to work, how the latching mechanism was going to work, how the seal was going to work, and he did all that modeling in the software. Brown could push or pull faces and edges to add clearance or stock, translate and rotate the 3D model, split the model into multiple faces, combine faces to simplify the simulation, and align faces to pre-existing planes, all within Model Prep and without toggling between screens. The feature was invaluable when it came to making minor adjustments and viewing their results immediately.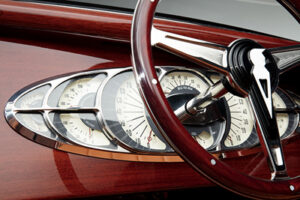 Throughout the machining process, Brown trusts Dynamic Motion technology to protect his tools and materials. The sophisticated feature monitors changes in the material as it is being cut, ensuring that the chances of tool breakage or cutting errors are almost zero.
Van Dam shared that, although he and Brown are impressed with the machining speeds that are possible with Dynamic, it's the software's creative ability that really shines.
– The software's given us more freedom to be creative, and I think that's what's important to us. Not necessarily that we're able to cut 10 parts when we used to be able to cut one, but it's how we can draw a very artistic shape which we could never really do before.