Leading hospital in Cologne installs 14 x 10" multi-touch displays providing enhanced level communications to staff and live room availability and set-up requirements for improved efficiencies
PPDS, a market leader for innovative display solutions for businesses, is excited to announce its range of Android-powered 10" Touch displays have been selected and installed inside one of Germany's leading hospitals to provide new levels of communication between staff, boosting patient safety and hospital efficiency.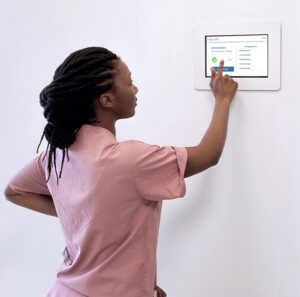 Based in Cologne, the recently expanded Krankenhaus der Augustinerinnen hospital, which sees on average over 13,000 in-patients and 28,000 outpatients on a yearly basis, turned to PPDS and wizAI solutions GmbH to create and deploy a custom intelligent system that displays interactive hospital floor plans, cleaning schedules, hygiene requirements and room availabilities.
In total, 14 Philips 10" Touch displays have been rolled out across the site, providing the hospital's 750-plus staff with the ultimate convenience in making status updates for each treatment room in an instant.
A custom, easy-to-use remote management console links each of the screens with the hospital's existing computers and tablets, to create an optimised cleaning process that allows for faster patient intake with a lower cost of operation, while enhancing patient safety.
Gunnar Schneider, Managing Director at Krankenhaus der Augustinerinnen, commented: – The effective use of resources and optimal utilization of rooms is essential for the best possible care. Cleaning App supports us in this. Compliments to the wiz AI team, who exceeded our expectations with the system.
Rainer Bloch, Business Director, DACH at PPDS, added: – Running on Android, our range of displays, whether 10" or 86", provide not only premium quality and reliable hardware, but have the flexibility to compliment third party providers, ensuring customers have a solution that works around their needs. We're delighted to have been part of such a transformative project, one which potentially benefits tens of thousands of people a year.
Fast Facts: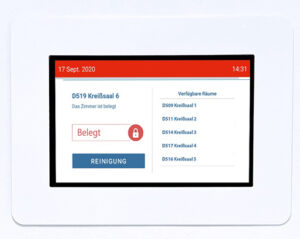 Benefits: Interactive information: Hospital staff can instantly access and update the status of room availability and cleaning requirements across the entire site through an interactive on-screen floor plan.
Remote upgrades: Software updates can be remotely deployed over the air to ensure that the latest features and security patches are installed. Updates are instant and can be directed to the entire suite of screens or selected sectors.
Touch-screen: Information can be updated efficiently through touch screen technology, allowing hospital staff to focus on their tasks with zero time wasted using traditional administration and communication methods.
Seamless integration: All displays are integrated into the central management console for live updates across the fleet and seamless connectivity with the hospital's PC and tablet set-up.