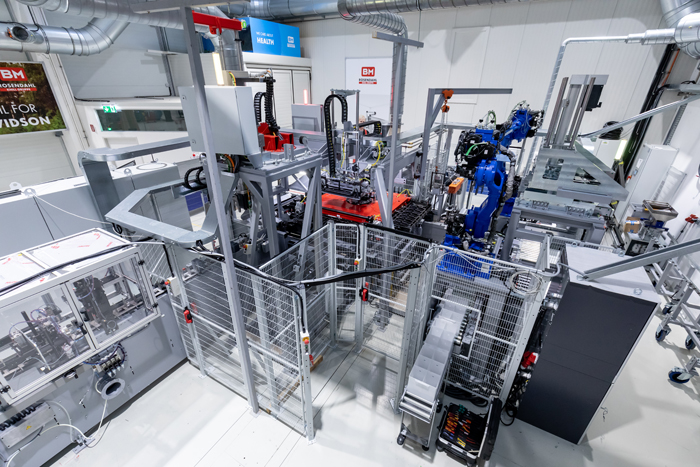 Machine builder implements digitalization strategy with solutions from Siemens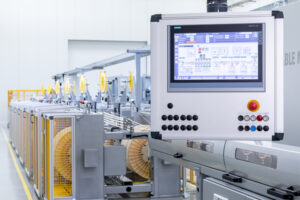 Pischelsdorf am Kulm, Austria. Rosendahl Nextrom GmbH (Rosendahl) is a global leader in battery, cable &wire and optical fiber production technologies. In order to be even more competitive and bring new solutions to market more quickly, Rosendahl is implementing a seamless automation and digitalization strategy. A key element of this strategy is the digital twin for the simulation of processes and systems in a virtual environment, plus the necessary solutions from Siemens. This has enabled Rosendahl to reduce their time-to-market from 24 months to just 12 months. For an enveloping machine, cycle times were successfully increased from 140 to 160 plates per minute. In addition, thanks to system digitalization, the company has achieved an outstanding machine efficiency rate of 95 percent.
Overall, digitalization at Rosendahl has increased the production quality, output and performance. This consistent digitalization strategy has had a positive impact on the production of a new machine for the manufacture of lithium-ion batteries. This is not the usual interlinked system; it comprises individual manufacturing cells, which are automated separately. This means that the production capacity of the machine can be increased or decreased flexibly, which is ideal for changing market requirements. Digitalization also speeds up the actual development process.
– Through simulation, we were able to skip entire steps in the development and manufacturing process, enabling us to reach our goal much faster, explains Siegfried Altmann, CEO at Rosendahl. – We were able to produce a completely new product generation within twelve months, when previously this has taken one-and-a-half to two years.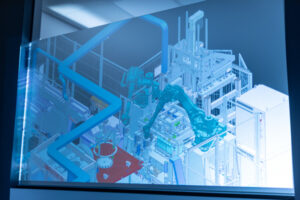 A key factor in this is the use of the interactive CAD/CAM)/CAE system NX and the Mechatronics Concept Designer (MCD) from Siemens PLM Software.
For cable manufacturing, Rosendahl Nextrom also uses the TIA Portal engineering framework and the Simatic automation portfolio. A Simatic S7- PLCSim Advanced controller is also used as the simulation for virtual commissioning in the test phase.
New opportunities created by simulation
With the MCD, new processes can first be simulated and put through their paces.
– In the past, we had to construct the machine first if we wanted to integrate new processes, Altmann enthuses. – – During commissioning, we had to check whether the machine was working as planned. Usually there was another loop of four to six weeks in order to incorporate improvements. This time is no longer needed.
– In addition, customers can visit the plant in the virtual environment before actual construction begins, and make any changes or special requests. The simulation also has a positive effect on teamwork. As the CEO confirms,
– The simulation encourages us to look at the situation in its entirety. And this helps our team to generate unique solutions.