Siemens Digital Industries Software and VSI Labs, a leading researcher of active safety and autonomous vehicle (AV) technologies, announced that they are partnering to further advance development of self-driving car technology. Through the partnership, Siemens' PAVE360 platform will be used to create digital twin simulations for the validation and testing of all processors, electronics, sensors and systems powering the VSI Labs Capability Demonstrator — an advanced AV development vehicle equipped with components from best-in-class automotive technology leaders and integrated by VSI solutions engineers.
– The primary objective of this partnership is to demonstrate equivalence between Siemens' industry-leading digital twin technology and a physical platform, thereby increasing confidence in digital twin-based modeling methodologies well in advance of the existence of a physical vehicle, said Ravi Subramanian, senior vice president, IC Verification, Mentor, a Siemens business. – This collaboration with VSI has the potential to significantly advance the AV space with the creation of a high-fidelity autonomous vehicle digital twin that simulates the interaction and combined power of the most advanced AV components and technologies in the world.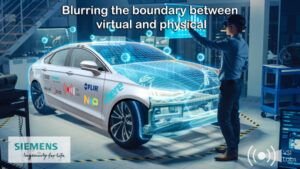 Siemens' PAVE360 pre-silicon autonomous validation environment delivers a comprehensive platform for multi-supplier collaboration across the automotive ecosystem. PAVE360 can extend simulation capabilities beyond processors to create digital twins that include automotive hardware and software sub-systems, full vehicle models, fusion of sensor data, traffic flows and even the simulation of smart cities through which self-driving cars will ultimately travel.
Siemens and VSI Labs plan to collaborate on multiple engineering projects, beginning with the validation of Digital Twin technology for systems functionality across the electronics, System-on-Chip (SoC), sensor and mechanical levels of the VSI demonstrator vehicle. Initial phases of this project are focused on SoC functional verification using Mentor's Veloce hardware emulation platform.
– Siemens' PAVE360 is a unique and powerful environment that we believe will substantially enhance our ability to analyze, test and deploy the hardware, software and connectivity systems necessary to support advanced safety and automated driving systems, said Phil Magney, president and founder of VSI Labs. – By creating a digital twin of our demonstration vehicle, VSI developers can test applications long before physical deployment, which will save time and reduce development cycles.
VSI's Capability Demonstrator travels to conferences throughout the year to exhibit the ADAS & autonomous driving technology enabled by their clients' components and solutions. Amid the COVID-19 pandemic, many of these events have been called off for the foreseeable future. In response to this, VSI is launching the Automated Drive Series, a set of four cross-country drives through which developers of AV and ADAS technology can promote their solutions.
Siemens Digital Industries Software is driving transformation to enable a digital enterprise where engineering, manufacturing and electronics design meet tomorrow. The Xcelerator portfolio helps companies of all sizes create and leverage Digital Twins that provide organizations with new insights, opportunities and levels of automation to drive innovation.