A major advantage of additive manufacturing (AM) is its design flexibility, which allows us to rethink existing processes in completely new ways. One example is a lamination tool used in the automotive industry to adhere materials to car interiors, a process known as drape forming. After designers and engineers at Materialise recognized flaws in the process, they took up the challenge to redesign the tool with AM.
Challenge
Eliminate issues caused by using conventionally manufactured tools
Our experts at the Metal Competence Center are very familiar with applying AM technology to applications in the automotive industry. They are constantly rethinking old processes with AM. This is how the team identified a point within the production process that often causes inconsistency, time delays, and excess scrap – drape forming.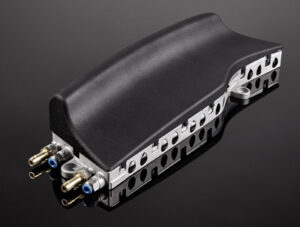 Traditionally, this process uses a metal tool that contains heating and cooling channels to glue a material, such as leather, onto an area within a car's interior, such as a door panel. Because the tool is made by milling solid metal blocks, the channels can only be drilled in a straight line, therefore limiting the design possibilities. This often resulted in long cycle times and inconsistent heating and spreading of the glue, leading to a waste of time and material when the result isn't up to strict quality standards required for the industry.
Solution
Redesign with additive manufacturing
When the Design & Engineering team came upon these issues, they immediately recognized the ways in which additive manufacturing could elevate the tool — while continuing to use aluminum to meet temperature and pressure restrictions. – When we redesign a part for additive manufacturing, it's not just about improving the original design, says Tim Hermanski, Design Engineer at Materialise. It's about thinking up innovative ways to give the tool new life. How can we optimize the design to push it beyond its intended purpose? Thanks to 3D printing's design flexibility, we were able to do just that. We don't stop at 'good enough.
While redesigning a part for additive manufacturing, it's crucial that the team has a deep understanding of the application and how to design for 3D printing. Our Metal Competence Center team is well suited to do so because the center combines the expertise of experts in AM software, production, and design. With this know-how and Materialise software to streamline the process, the team fully rethought the part using AM.
Result
A 3D-printed part that`s more performant, lighter, and cheaper
Thanks to the combined capabilities of our team and metal AM, the redesigned part offers many advantages over the original design.
First of all, the optimized channels was a boost in performance by 50%. Our team designed the channels closer to the surface to ensure heating and cooling that is homogenous and quick. As mentioned earlier, consistency during this step was a major drawback of the initial design, so this improved flow plays an important role in reducing scrap.
Another benefit with the flexibility in design meant that the team could combine two components into one and reduce the part's mass by 51%. Where the milling technology only

allowed for straight channels, AM enabled more organic shapes for these channels to follow that minimized the amount of material needed. A lighter part is easier for the operator to handle and costs less to make. The team further optimized the part with an orientation that doesn't require support structures, reducing material costs and the time and effort required for post-processing.
More: www.materialise.com