The fashion industry is a challenging environment, especially for independent eyewear brands. So, balancing fast fashion with sustainable business practices is crucial for their success. Odette Lunettes managed to achieve this with 3D printing for their eyewear collection: Odette Lunettes X Tom Boonen.
Their 3D-printed cross-over frames are made in PA11 – a sustainably sourced, bio-based material – to provide consumers with lightweight, durable, and fashionable eyewear. And collaborating with Materialise enabled the team to produce and launch personalized 3D-printed frames within two months – unparalleled speed compared to conventional manufacturing techniques.
Reframing sports eyewear with 3D printing
Odette Lunettes is a Belgian brand with a growing fanbase that all enjoy their unique collections of designer frames. However, based on consumer feedback, the team identified a category that was not fully realized in the eyewear market and its own lineup: fashionable sports frames.
– We've been thinking about launching a sports frame for some time, but we didn't find the perfect solution to produce something fashionable and technically equipped for multiple sports. Our idea of targeting sports eyewear came up when I met with Alireza [Parandian] from Materialise and he recommended 3D printing with PA11 as the ideal solution, says Eline De Munck, Founder of Odette Lunettes.
Eline spoke to Alireza Parandian, Business Development Director at Materialise, about the team's requirements and was convinced about the potential of 3D printing (3DP) as the go-to manufacturing choice for their new sports frames.
– Eline and the team wanted to produce stylish and robust frames for sports in a relatively short time frame – in an environmentally and economically sustainable way. It was a challenge that I knew 3DP could deliver on, says Alireza.
This growing partnership interested Belgian cyclist and former world champion Tom Boonen, and he immediately joined. – Tom collects sunglasses and likes wearing his own sports frames while competing. Plus, he loves our brand's edginess, says Eline. As a result, the Odette Lunettes X Tom Boonen collection clicked into gear.
Eyeing up the potential of 3D printing and bio-based material PA11 for sustainable fast fashion
Entrepreneurial companies like Odette face two ongoing dilemmas – keeping up with the demands of fast fashion while mitigating risks that come with launching new designs.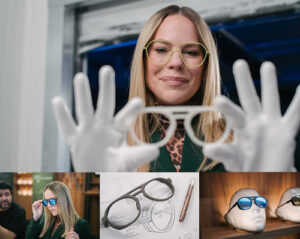 Over-production, high start-up costs, and wasted material are common factors with traditional manufacturing methods. Due to the additive nature of 3D printing, material waste is significantly reduced. And with on-demand manufacturing, brands can produce smaller batches, reducing the risk of over-production and unsold stock. As for the frame's material, the Odette team selected Ultrasint PA11 by BASF, a 100% bio-based material that's responsibly sourced from castor beans, based on Arkema Rilsan Polyamide 11. The material offered sustainability benefits while also delivering the aesthetical and performance characteristics that eyewear demands.
Accelerating the trend toward mass personalization in eyewear
3D printing allowed Odette Lunettes to experiment and create unique characteristics for this collection compared to their other frames. Inspired by the cycling theme, 3D textured tire treads adorn the temples of each frame, and the Odette symbol is embossed on the temple tips. The custom-made rims (to protect the users from the sun's glare) even incorporate the Odette logo. – All of these features are highly technical and simply not possible without 3D printing. The detail and customization on offer in these frames are extremely impressive, says Bob. The Odette X Tom Boonen collection comes in two different sizes and three different colors. The flexibility of 3DP allows entrepreneurial brands to innovate without the risks associated with new product launches. AM inspires more experimentation, faster prototyping, and efficient production. – 3D printing improves on every part of eyewear: the innovation process, business model, supply chain, and customer satisfaction. Each quadrant is made better with AM, says Alireza. The team at Odette Lunettes agrees, "we're delighted with the result," says Bob.
The reaction is positive. Customers like the design and appreciate the value of sustainable multifunctional eyewear.
The collection is just the beginning of Odette's 3D printing adventure. Ideal for limited edition frames based on the design freedom and flexibility in production, 3D printing is perfect for future collaborations. – We want people to acknowledge that 3D printing is an option for glasses. It's not very exclusive, and it's a good commercial product. We would definitely like to evolve with 3DP in the future, says Bob.
Alireza summarizes both companies' partnership and conviction for eyewear: – We have a mutual trust and respect for each other's craft. This is our culture at Materialise and what we try and instill in all our collaborative projects. With 3DP, you can reduce lead times, time-to-market, and costs to improve product performance. We bring all of our expertise in 3D printing eyewear to benefit the brands we work with. It's amazing, fast, and sustainable fashion.
www.materialise.com