Siemens Digital Industries Software announced that Hymer, a global leader in recreational vehicles, has adopted the Siemens Xcelerator portfolio of software and services to develop VisionVenture, a convention smashing recreational vehicle using the comprehensive digital twin.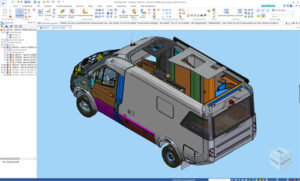 From a category defining design and additively manufactured body parts to the temperature-regulating, energy-efficient body work that reduces the surface temperature of the vehicle, VisionVenture encapsulates the company's pioneering spirit and innovation by breaking new ground in design for sustainability and innovative use of materials, in a rapidly growing and competitive industry.
Hymer's reinvention of how it develops its products by taking advantage of the Siemens Xcelerator portfolio, a comprehensive digital twin approach combined with state-of-the-art immersive VR technology, has led to significant benefits across the group. Along with the 80% reduction in physical prototypes and the almost immediate availability of consolidated design data for verification, variant derivation time has been reduced by a further 65%.
Hymer's engineers supported the design of the VisionVenture by weaving a digital thread along the entire product design process using NX software, Solid Edge software, Simcenter software and Teamcenter software from the Siemens Xcelerator portfolio every step of the way.