Siemens Digital Industries Software announced that defending America's Cup winners, Emirates Team New Zealand, has selected Siemens Xcelerator portfolio of software for the design and development of its next racing yacht. Seeking to extend their winning streak to three successive victories, the New Zealand-based team is expected to benefit from turning digital twin design concepts and iterations into a race winning yacht more quickly and seamlessly, thereby saving time in design and rework.
Siemens is an official supplier partner to the team and its software will allow Emirates Team New Zealand to move through design iterations of the yacht more quickly and overcome design problems prior to construction as the team prepares to defend their title. Siemens' NX computer-aided design software will be used to model the entire yacht, including the layout of all the mechanical, electrical and hydraulic systems.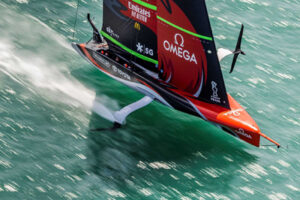 – The America's Cup is the oldest sporting trophy in the world, and one of most technically challenging. The yachts that race this famous regatta are precise instruments of engineering that are designed with efficiency to extract optimum performance from the wind, said Dan Bernasconi, Head of Design, Emirates Team New Zealand. As defending champions of the America's Cup, we wanted to build on our design fundamentals and also create process efficiencies that help us maximise our most precious commodity… which is time.
– The beauty of designing a digital twin of our yacht is the confidence that when we build something, the final product will be what we want it to be. Not only does this help prevent delays and time when commissioning the boat, but it significantly helps collaboration amongst our small, passionate team. The race is fought as much on a computer screen as it is in the water. We want the best winning chance every step of the way and that's where Siemens' software will play a crucial role.
Part of the Xcelerator portfolio of software, services and an application development platform, Siemens' NX computer-aided design (CAD) software, integrated with Teamcenter Product Lifecycle Management (PLM) software, will enable Emirates Team New Zealand to be efficient in editing and viewing complex models. This is expected to help the team speed up product development and more effectively manage the design process by creating a digital thread, a single source of truth, through the design process. In addition, Teamcenter, combined with NX CAD, will support the development of the lightest, strongest and fastest vehicle possible whilst ensuring that time and cost savings are realised at every stage of the process.
– Be it auto-racing, space satellites or yachts, our software has been instrumental in designing the digital twin of final products that have to perform under extreme pressure and circumstances, Samantha Murray, Managing Director, Siemens Digital Industries Software, Austraila and New Zealand. There are no second chances when it comes to designing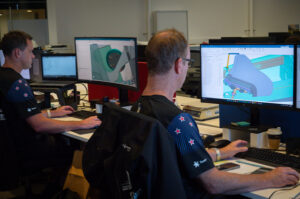 and testing a multi-million dollar yacht or a racing car, which is why a digital twin is so important as it allows you to rapidly test design ideas in a virtual world first. We're very excited to be the official supplier for Emirates Team New Zealand and look forward to supporting their journey to the next America's Cup competition.
The announcement comes one year since Emirates Team New Zealand won the best-of-13 race series in March 2021. Emirates Team New Zealand have won the America's Cup four times (1995, 2000, 2017, 2021) making it the most successful team in modern history.