If practice makes perfect, Paul Schmitt must have reached manufacturing perfection 10 million skateboards ago. Known by monikers like "The Godfather of Skateboards" and "The Professor", Schmitt has earned notoriety in the skateboarding world for his innovative designs for professional-quality skateboards. Today his company produces over 4,000 skateboards in a day, but his process hasn't always been so streamlined. "I used to build all the lamination molds by hand. I'd hand cast them, drag them, sand them, and form them," he said. Though thankful for the experience, Schmitt is much happier now that his process is automated.
– In the early 90s, I got my first CNC machine, he said. With the machine came the ability to guarantee precise cuts at previously unthinkable rates. All Schmitt needed was a reliable CAD/CAM software.
– When I learned how to program myself, Mastercam was the obvious choice. I had already gone down the Mastercam path from a licensing/cost perspective. Schmitt depends on its sophisticated modeling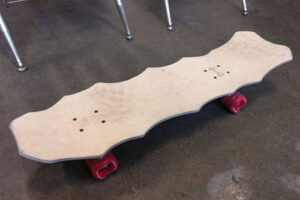 abilities as he works on new designs. Model Prep allows him to quickly and efficiently alter geometries while Backplot and Verify simulate the machining process, highlighting any programming errors that can lead to machining mistakes.
– Every year, it just continues to get better and better. My precision has drastically increased. I mean, it's just a whole other world – the accuracy of holes and jigs, said Schmitt. The software has become such an integral part in his manufacturing process that he made it part of his CreateAskate program. CreateAskate is a movement that teaches middle and high school students how to design and create their own professional-quality skateboards. While it was originally started only to share Schmitt's passion and pride in handmaking skateboards, the program has now exploded into a popular STEM activity throughout the nation.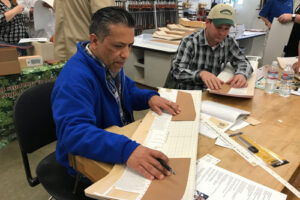 Richard Nicholson, an education liaison specializing in skilled trades training, added, – We were looking for a way to bring CreateAskate to middle and high schools. We were looking for a common product that the schools could buy, and it just became more evident that the one thing they had in common was that they were using some computer numerical controlled machines and not just standard woodworking machines. And the product that would make the machines work was Mastercam. Not only is the software intuitive and easy to learn, it is also the most widely used CAD/CAM software in the world, ensuring that CreateAskate graduates who enter the manufacturing workforce will do so with a decided advantage.
– The CNC software can make incredible motorcycle parts, drill bits, high-end things, but kids can't relate to that yet. They can relate to skateboards, Schmitt said. The software is the bridge that takes the CreateAskate program past being just another school project. As students explore their ability to build something with their own hands and discover a passion for doing so, they are also learning the technical skills that will earn them rewarding careers.