Specialized Bicycle Components, Inc. designs and manufactures high-end road, mountain, and general-purpose bikes for a worldwide customer base. The California company is a true trailblazer—it designed and manufactured the first production mountain bike in 1981 and has been rolling out innovations ever since.
Daniel Lister is the Research & Development shop manager at the Morgan Hill facility where he and his team spearhead R&D and prototyping. Projects range from molds for carbon fiber to high-end road and mountain bike components such as suspensions, hubs, and motors. The department works with the Specialized Bicycle design engineering team to rapidly produce testable prototypes within tight design cycles. To bring innovation to production quickly, the team relies on Mastercam.
– We do all prototyping for literally any bike that comes through our design division, said Lister. It could be a new road bike that would be potentially ridden by one of our racers in the Tour de France, or it could be a mountain bike for one of the riders in the World Cup downhill circuit.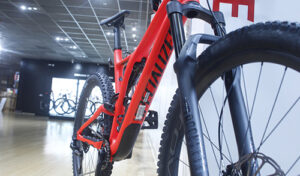 A team of seven employees makes full, rideable prototypes from materials like aluminum, steel, and titanium. Tooling for carbon fiber molds is made in-house and the shop produces wheel molds in its Roval Wheel line, frame molds for road and mountain bikes, and sections of carbon fiber frames.
When the shop receives models, it is not always efficient to go back into native 3D models, modify CAD designs, then download them into Mastercam. Specialized Bicycle designers use Mastercam Solids, which allows mixing and matching of wireframe, solid, and surface modeling techniques.
One part that challenged the prototyping team was a thin-walled bicycle shell component. Using Solids, Lister created a series of fixtures for the first machining stage. The part was then sunk into a mating fixture and backfilled with wax. Lister performed the next two machining operations while the part was suspended in wax and created 3- and 4-axis toolpaths for complex internal surfacing. The final piece had a wall thickness of .040 inches, the bounding box size was 3.5 cubic inches.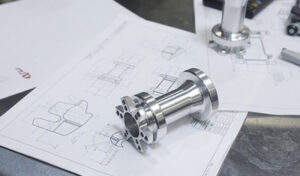 To prevent tool collisions, Specialized Bicycle programmers use Verify, a feature that lets them check for gouges, view finished shapes of parts, and visualize fixtures in a simulation screen. Productivity increases and problems are addressed before parts are ever cut.
– If we don't use Verify, we usually get ourselves into trouble, said Lister. We use it on every single part that comes through.
For the folks at Specialized Bicycle, CAD/CAM software bolsters team collaboration. They can create templates to be referenced when new parts arrive, and programmers can scrub toolpaths, craft new geometries, and view previous part setups.
– The versatility and speed at which we can execute these prototypes is why we enjoy using the software, said Lister.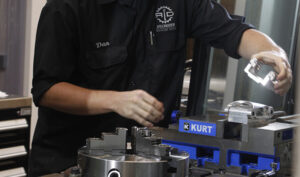 As Specialized Bicycle Components continues to blaze trails as a cycling industry pioneer, its Research and Development team will look to Mastercam to ensure that the path to production is a smooth one.