Melbourne´srising star Steel Frames Direct provides light gauge steel framing solutions for all areas of the fuilding industry including residential, commercial and light industrial
Steel Frames Direct offers a complete solution, from engineering and designing to manufacturing, delivery and installation. By using Vertex Building Design software, the team is able to take on projects of any size and produce high volume of frames with high accuracy.
Family-owned Steel Frames Direct was established in late 2020 against the backdrop of Covid-19 pandemic. The uncertain times have provided many challenges for a new business.
– Many builders and developers have been liquidated or going through the motions, creating uncertainty to the industry and forcing them to withhold on all future projects to eliminate unnecessary risks," says Mr Tony Foti, director and owner of Steel Frames Direct.
"The fact that we hadn't been open for long was a challenge itself."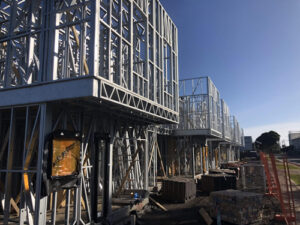 With 30 years of experience in the building industry, Mr Foti knows that the key to success is developing strong customer relationships.
– Our focus is putting the customer's needs first. We are dedicated to enhancing customer satisfaction and building strong relationships. We offer a 24-hour customer service to all clients, 7 days a week, Mr Foti says.
It is the willingness to go above and beyond that sets Steel Frames Direct apart from its competitors.
Vertex helpdesk has been amazing! We couldn't have run our business without them. Brilliant service for a growing business. We would definitely recommend the service and sales team.
Tony Foti, Director and owner, Steel Frames Direct
Steel Frames Direct's most recent framing project is the Kingslea Broadmeadows development in Melbourne. The new residential community which features 2 and 3-bedroom town homes, a retail precinct and plenty of green spaces, is located 17km from Melbourne CBD and only 10 minutes from Melbourne airport.
For a large-scale project such as this, Vertex Showroom is a valuable tool. Showroom is a secure cloud-based file sharing platform, allowing for more efficient collaboration and communication with clients, partners and manufacturing team. The option to explore a 3D model in Virtual Reality gives a more accurate idea of what is being built and can therefore simplify communication between teams with different levels of building knowledge.
– We love providing Vertex Showroom to clients. The 3D virtual model gives clients without the building knowledge a better understanding of it and a 3D image can simplify the model further than a 2D plan, Mr Foti says.