Absolute Arm range update makes it the most robust measurement arm ever produced along with delivering real-time asset management capabilities
Hexagon's Manufacturing Intelligence division today announced the introduction of full IP54 protection for its latest range of Absolute Arm models, together with other usability improvements and compatibility with the HxGN SFx | Asset Management service. From ultra-high-accuracy probing with the Absolute Arm Compact to high-productivity 3D laser scanning with the Absolute Arm 7-Axis and Absolute Scanner AS1, every new Absolute Arm model will be fully equipped for the demands of measuring and monitoring in the most challenging measurement environments.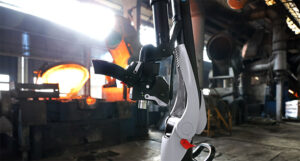 An IP54 protection rating is a market first for portable measuring arms and comes alongside a further environment-related improvement that sees the system's maximum operating temperature increased to 45°C. Together with the Absolute Arm's already excellent portability and versatility, these updates complete a package that is perfect for the demands of the hot and dusty environments into which metrology-grade inspection is increasingly being taken in locations all over the world.
– In the last few years, we've seen a migration in where our arms are being used, explains Anthony Vianna, Product Director Portable Measuring Arms at Hexagon. Whereas once most arms would sit in a nice clean metrology room, today we see them used on shop floors, in foundries, and close to machining centres. That's why this update to the Absolute Arm is so important – we want our customers to go into those environments and more with total confidence that they can measure anywhere. And this pairs with another trend we've seen in the last few years – the popularity of the Absolute Arm with smaller customers who maybe don't have the infrastructure of larger companies, including things like adequate air conditioning in measurement areas. Of course, the world is changing, and new markets are appearing all the time, so it's important to us that we listen to those customers and deliver improvements that are meaningful for them.
Also arriving with this update are improvements to the functionality of the Absolute Arm wrist display, now upgraded to a touchscreen, and the RDS software that drives it. These are changes intended to further enhance the ease of on-the-ground measurement processes by bringing more functionality to the point of measurement and reducing trips back and forth between the arm and its control computer, whether that be for checking collected data or adjusting measurement profiles. The RDS platform also now offers one-click diagnostics and updates, for completely hassle-free maintenance and support within Hexagon's renowned global service structure.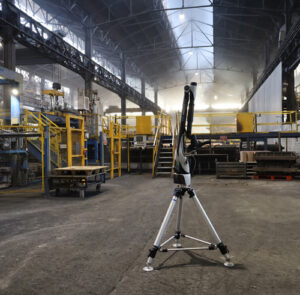 Integration with Hexagon's HxGN SFx | Asset Management solution takes another perspective on the need for reliability and portability in measurement technology, while also enhancing the 'measure anywhere' spirit of the new Absolute Arm range. Through this service – a one-year subscription is included free with every Absolute Arm – portable arms can be tracked and monitored remotely through a dedicated dashboard. Users can easily keep an overview of the location of every measuring arm in their fleet, ensure every single one is up to date and properly calibrated and certified, and even receive alerts in the case of shock events or status changes.
– We have seen in the last couple of years that some metrology hardware manufacturers have been launching very 'linear' updates to their products – for example devices with accuracy improved by a couple of microns, says Duncan Redgewell, President Metrology Devices at Hexagon. With the new Absolute Arm, what we have tried to do instead is bring real features to the arm that will actually help our customers to measure better, faster and easier.
On-site measurement with the Absolute Arm is further facilitated in these new models by the significant connectivity improvements Hexagon has delivered since the current generation was first launched. With the CP-W Wireless Pack – also IP54 rated – every Absolute Arm boasts full-speed performance all of the time, even when high-speed scanning over a wireless connection. This is yet another feature that makes the Absolute Arm the perfect portable measuring arm for non-traditional measurement applications that require taking metrology beyond the quality room. This high-speed performance is nowhere more apparent than when performing 3D scanning tasks with the Absolute Scanner AS1, launched in 2021. With the launch of the new IP54-rated Absolute Arm models, the AS1 will also be upgraded with IP54 protection, whether being used with a portable measuring arm or as a handheld or automated 3D scanner for a laser tracker system.