The COVID-19 pandemic has put exceptional strain on manufacturing facilities in the automotive industry. While all parts of the automotive enterprise have been impacted, manufacturing facilities have proven especially vulnerable because of the crucial link that human operators form in the vehicle production chain (figure 1). Taking action to protect the health of these employees is challenging.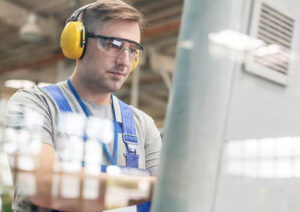 Figure 1: Human operators perform critical tasks in the vehicle production chain, making automotive production facilities especially vulnerable to the COVID-19 pandemic.
Today's production lines were designed and optimized for a pre-pandemic world. Operators often worked in close physical proximity and shared tools, parts bins and other resources to complete their tasks. The measures necessary to prevent the spread of COVID-19, of course, invalidated many aspects of these production designs and optimizations.
The challenges of redesigning production facilities
Automotive companies had to quickly modify and adapt their production facilities to ensure the safety of their employees. While these changes are necessary, they can dramatically impact efficiency and output in a production facility. For example, production stations have to be redistributed across a production line to ensure that human operators remain at least six feet apart at all times during the performance of their duties. In addition, each operator must have their own tools and parts bins to prevent the spread of the disease via mutual contact with a surface or object. While seemingly small, these changes can greatly influence how human operators perform their duties, often slowing them down. Just the increased spacing between production stations can slow production down.
The changeover of employees between shifts also presents safety challenges. Manufacturers will need to ensure that workers are healthy when they arrive to work, and allow extra time between shifts to thoroughly clean stations and tools. These extended shift changes result in more production downtime and potentially could require plants to reduce the number of shifts they run in a day, further impacting productivity.
These and other effects of the pandemic have pushed companies to turn toward advanced manufacturing technologies to mitigate the shortcomings of socially distanced production lines and stations. Novel applications of technologies such as virtual reality, advanced robotics and additive manufacturing are enabling safer and more productive manufacturing facilities. Automated guided vehicles (AGVs), for example, can replace shared parts bins, delivering materials to production stations quickly and efficiently while facilitating physical distancing among human operators (figure 2).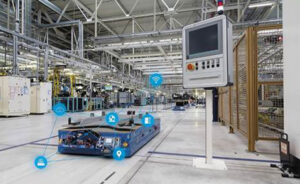 Figure 2: AGVs can help maintain physical distance between human operators by automating material delivery and other logistics task.
While these technological innovations have provided some relief, integrating them with existing facilities can create additional challenges. The implementation of new production processes or technologies can be costly. The redesigned production lines also must be tested, verified and validated to avoid issues as production comes back online. This is especially true at the junctures where old and new processes interact. Any problems that occur can lead to schedule overruns, delays in production ramp-up and increased cost.
It is not just original equipment manufacturers (OEMS) conforming to the new constraints of operating in response to a global pandemic. As OEMs determine how to modify their production design and strategy to account for social distancing measures, their suppliers, including Tier 1 and 2, are engaged in the same exercise. As all these companies adapt, digitalization at the enterprise level has proven to be critical to bringing production back online safely, quickly and with greater resilience in preparation for crises of the future.
Digitalization enables a smarter way forward
Digitalization has helped companies to adapt their production facilities quickly to ensure social distancing and protect employee health. Modern software solutions enable production engineers to virtually plan and design production stations, lines and even entire facilities before physically implementing any changes (figure 3). The virtual copy of a station, line or facility, known as a digital twin, can then be simulated to verify, validate, troubleshoot and optimize production designs for safety and efficiency before any machinery is commissioned or facilities reorganized. Virtual production planning and design solutions can even simulate human operators, enabling the production design to account for ergonomics and physical distancing requirements.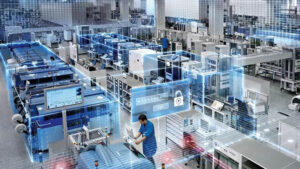 Figure 3: Digital manufacturing engineering solutions enable production facilities to be re-designed virtually. Recently, Siemens announced a new solution that helps manufacturers to simulate and manage employee exposure risks while enabling productivity throughout their facilities.
As facilities come back online and production ramps up, digital manufacturing operations management solutions have helped companies monitor and optimize the operation of their facilities. These solutions can gather production data from multiple sources and aggregate it into useful, contextualized reports. This data can then drive production scheduling optimizations, quality enhancements and more.
A robust digitalization strategy, however, should extend beyond production design and management. Integrated solutions from product and production design through product lifecycle management (PLM), manufacturing operations management (MOM) and enterprise resource planning (ERP) create a complete digital thread from product design into the supply chain. Such a comprehensive digital thread can help companies turn complexity, whether from operating during a pandemic or from the requirements of next generation products, into competitive advantage by streamlining operations and improving collaboration throughout their supply chains.
In particular, enabling more frequent and effective collaboration throughout the supply chain will be critical as OEMs and suppliers continue to recover production output and prepare for unforeseen future disruptions. Better communication among partners also will help enable OEMs and their suppliers to coordinate the ramp-up of production capabilities with market demand to avoid both excesses and shortages of product. Collaboration also facilitates the sharing of experiences and key lessons learned while adapting to the pandemic. These experiences can help inform disaster recovery plans, allowing companies to incorporate a realistic estimation of how they will react to emergency situations.
Building in resilience through digitalization
The COVID-19 pandemic has automotive manufacturing facilities and employees under particular strain. As the pandemic has progressed, automotive OEMs and suppliers have been challenged to reorganize and redesign their manufacturing facilities to keep their employees safe and healthy. Redesigning a production facility, however, is extremely difficult, and this is especially true under the pressure of responding to a major crisis.
Throughout the ongoing process of redesigning and restarting automotive manufacturing facilities, digitalization has proven key to achieving safe and efficient production environments. Digitalized production design and simulation solutions enable engineers to quickly design and verify new configurations for production lines and stations, while MOM, PLM and ERP solutions enable greater insight into facility performance and supply chain logistics. Digitalization has also helped automotive companies come together in a time of crisis to improve collaboration and learn from others' experiences. As the industry continues to overcome the effects of the COVID-19 pandemic, the lessons learned from these new partnerships will help the entire automotive industry become more resilient as they prepare for the challenges of tomorrow.
By Nand Kochhar, vice president of Automotive and Transportation Industry Strategy for Siemens Digital Industries Software