Holding a cup with confidence and ease: for amputees using traditional prosthetics, that's a difficult task. Not so for people who have a TrueLimb bionic arm from Unlimited Tomorrow. Elements from the Xcelerator portfolio and the Digital Twin help the company's engineers create affordable, high-quality prosthetics that let users hold cups and much more.
Easton LaChappelle started his inventor career as a tinkering teenager, who eventually made a robotic arm from items lying around the house. Direction for his work came when he met a girl at a science fair who had a conventional prosthetic arm – which can easily cost some $80,000,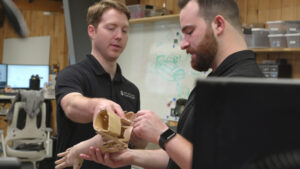 weigh around 4 pounds, and take up to a year to fabricate. Now 26, Easton LaChappelle is the CEO and Founder of Unlimited Tomorrow. Headquartered in Rhinebeck, New York, the startup's mission is to make affordable, lightweight, high-quality prostheses for children and adults. Unlimited Tomorrow gets the job done with software in the Xcelerator portfolio, like the CAD/CAM/CAE software solution NX.
Customization with powerful software
Unlimited Tomorrow's business model focuses on remote care, which means a prosthesis can be ordered from the comfort of one's own home. The process starts with a 3D scan: Unlimited Tomorrow sends its customers a scan app that can be installed on a mobile device. A family member or friend then scans the person's residual limb. During the ordering process the person also selects the color for the prosthesis so that it blends in well; 450 skin tones are available. The images from the scan are then sent to the company, and the engineers feed it into NX Product Template Studio. The most difficult part of the prosthetic creation process can thus begin: designing and manufacturing a customized socket.
– The socket is the part that fits to the person's limb, clarifies Easton LaChappelle. NX Product Template Studio is perfect for fine-tuning all the little variables to ensure a proper fit. Very important here is ensuring overall comfort and deciding where to place proprietary sensors that allow the wearer to make hand motions – such as those necessary to hold a cup. This feature sets Unlimited Tomorrow's protheses apart from traditional claw-like apparatuses.
Better 3D printing results
The virtual protheses is then brought into physical form on an HP Jet Fusion 580 Color 3D Printer. NX Additive Manufacturing is integral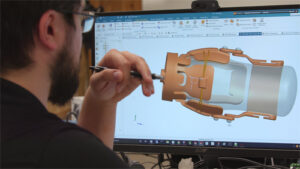 here because it is tightly connected to HP's printers. – NX delivers a much smoother output from the HP 580, says Matt Landolfa, Lead Mechanical Design Engineer at Unlimited Tomorrow. – With our old software you could see the facets in the 3D print; not with NX. Its precise geometry delivers a much more realistic finish. The software makes a direct contribution to TrueLimb's natural-feeling, aesthetically pleasing surface.
Easton LaChappelle and his team are understandably proud of the prostheses they manufacture. Until now, the focus has been on upper extremities, and their innovations have disrupted the prosthetic arm market – not least of all with a price point of $8,000, a weight of just over a pound and a delivery time of mere weeks. That's a far cry from the heavy, extremely costly conventional devices with a long manufacturing time.
Next step: expand production
The people at Unlimited Tomorrow are not resting on their laurels. They have plans to scale up dramatically and extend their offering to include prostheses for lower extremities. By doing so they will be able to reach even more of the estimated 40 million amputees worldwide, of which only 5 percent have access to devices. A further aim is to offer exoskeletal systems. For the planned growth ahead, Unlimited Tomorrow is exploring further elements in the NX portfolio.
One is Teamcenter to manage design-production processes. To scale additive applications, Siemens experts at the Additive Manufacturing Experience Center (AMEC) in Erlangen apply Siemens' holistic end-to-end process chain for multiple industrial additive manufacturing (AM)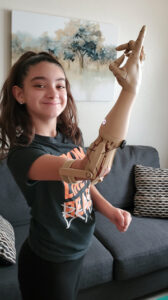 modalities. They also use, among other machines, a Multi Jet Fusion machine from HP, using Tecnomatix Plant Simulation to simulate manufacturing scenarios and scale futureproof automated AM factories.
Unlimited Tomorrow is also currently investigating the possibilities of automatic nesting available with NX Build Preparation to efficiently populate the build tray in the HP 580. Finally, the company is in talks with Siemens on using Tecnomatix plant simulation to perform what-if analyses to plan growth and expand their operations.
With these and other software solutions from Siemens, Unlimited Tomorrow is in a key position to bring more prosthetics into the world. The most amazing thing is that all of this started because a teenager showed a talent for tinkering. That could be a lesson to parents: if your kids show a knack for technology, let them explore!